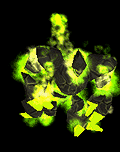 What is Demonic Eternia and when does she spawn?
Submitted by Nevo , May 17 2015 02:16 PM | Last updated May 18 2015 04:12 AM
Demonic Eternia is considered to be the Last Boss as part of the Bonus Endless Rounds.
She is Extremely strong with 35,000 Damage. She has 98% Spell Reduction and 50% Evasion!
In order to play against Eternia,
you must be playing
with
AIR
and
INVISIBLE UNITS
.
Demonic Eternia will spawn at Endless Round 10, provided at-least one Builder is alive.
If you are playing in
NIGHTMARE
with
AIR
and
INVISIBLE UNITS
,
Upon Death, Eternia will award all Players in Game with an Elemental Stone provided they have one of the following:
Dealt The Killing Blow, OR

Have At-least 301 Kills, OR

Have At-least 60,000 Lumber
0 user(s) are reading this page
0 members, 0 guests, 0 anonymous users