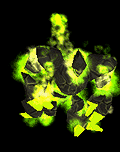 How do you get Malignant and Benign Virus and what are they?
Submitted by Nevo , May 15 2015 11:43 PM | Last updated Dec 06 2015 03:37 AM
Someone with the Malignant Virus has to infect you, preferably at the beginning of the game.
It will give you the Benign Virus and during the course of the game that Benign Virus has a chance to turn into a Malignant Virus.
The Benign Virus can be saved in your Load Code. Next time you load your code, you will have it in your Survivors Pouch.
The Malignant Virus upgrades at random, Once it has formed, it replaces the first level and you can save it in your Load Code.
The Benign Virus has a lesser effect compared to Malignant and does not allow you to infect other Players.
Some Players have been lucky to be infected and within a couple games already have their Virus transformed into Malignant.
The Benign Virus (Level 1) gives the following for every infected unit:
500 Bonus Health Points
30 Bonus Attack Speed
65 Bonus Movement Speed
6 Bonus Armor Defense
90 Bonus Damage
The Malignant Virus

(Level 2)

gives the following for every infected unit:
800 Bonus Health Points
45 Bonus Attack Speed
85 Bonus Movement Speed
8 Bonus Armor Defense
180 Bonus Damage
0 user(s) are reading this page
0 members, 0 guests, 0 anonymous users